Our Mold Damage Team Can Restore Your Lehigh Valley Home
9/19/2018 (Permalink)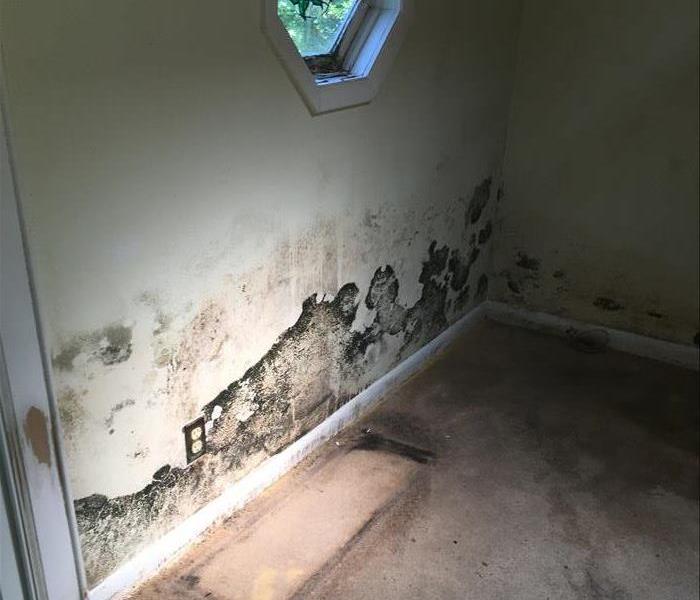 Whether you find a small or large patch of mold in your home, contact SERVPRO for effective remediation and containment services.
SERVPRO Technicians Quickly Contain the Mold Infestation in Your Home
Mold can be visible or can present a stale or musty odor. If you notice mold in your home, call a professional right away to remediate any damages. Mold can cause health effects, which makes it imperative for homeowners to deal with it as soon as possible.

SERVPRO mold remediation professionals in the Lehigh Valley are highly trained to use industrial grade disinfectants and specialized equipment to get rid of mold inside your home. Our crew works quickly and efficiently to contain and reduce mold levels inside your home. Also, our crews take proper precautions to ensure they do not spread mold spores to any other areas inside your home. Our techs can use plastic sheeting and tape to seal and contain mold. Plus, our crews can set up areas to clean and sanitize items and any equipment they employ during restoration.

Since mold spores are microscopic, there can be thousands of airborne spores inside your home. Our technicians use commercial grade air scrubbers to clean and to purify the atmosphere inside your residence. Specialized HEPA filters catch and trap mold spores, push them through a hose and contain them inside a bag outside of the residence. These machines can also get rid of stale mold odors. Our techs may also use professional grade anti-fungal sprays to clean areas and to stop mold growth. It is not possible to eliminate every mold spore inside your home, but our techs can get them down to a safe level.

After our technicians remove mold spores and clean surfaces inside your residence, they begin to dry the structure. Drying helps prevent mold re-growth. Our technicians may also use air movers to eliminate moisture. Also, they may use axial fans to force damp air from your home and to speed up drying.

SERVPRO of Easton, Bethlehem & Whitehall offers mold damage restoration services that can restore your home when possible. Contact us at 800-455-9453 anytime. We are nearby and here to help.