Choosing The Right Commercial Damage Restoration Service
1/12/2022 (Permalink)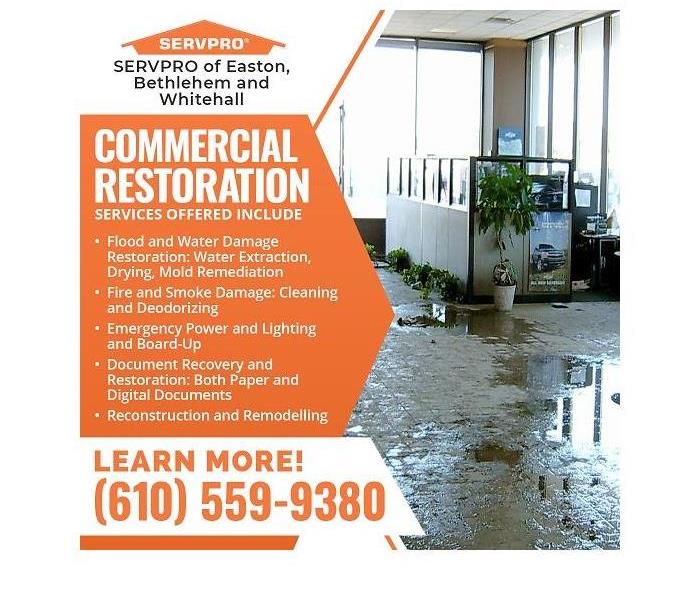 Blog Summary: Business owners can choose the best commercial damage restoration company using these points shared by SERVPRO
While business owners always try to maintain their property in the best condition and to prevent any kind of damage, they also try to prepare themselves to handle damages. All businesses run the risk of damage; it can be due to natural disasters like fire or floods. Even in areas not prone to natural causes, damages from man-made disasters like accidental fires, water damage from leaking, burglaries, accidents involving chemicals, etc. Businesses of a certain nature are more prone to some types of accidents like restaurants have a risk of fire accidents.
Usually, commercial restoration services offered include
Flood and Water Damage Restoration: Water Extraction, Drying, Mold Remediation
Fire and Smoke Damage: Cleaning and Deodorizing
Emergency Power and Lighting and Board-Up
Document Recovery and Restoration: Both paper and digital documents
Reconstruction and Remodelling
Depending on what service they need, business owners can consider the following things before settling on the commercial restoration company they hire.
Experience
The amount of experience that the company has in commercial damage restoration is not the only indicator of its success, but companies with more experience might be able to provide better results.
Job to be done vis-a-vis the Services
The business owner must always be clear with what kind of damage has been sustained and the results expected. The company should have adequate resources like qualified and trained personnel, and sufficient specialized equipment that is best suited for the job. Keep in mind that the tools and techniques used in restoration differ from those used in general construction. Check that the company provides specialist services as required.
Location
A local company that offers damage restoration service might be better. They would be familiar with problems particular to the area and plan accordingly, and have required permits, and be more accessible.
Licenses and Certifications
The property damage restoration company must have all the necessary licenses. This ensures quality and safety that is of prime importance. Usually, insurance companies check these credentials. Having additional certifications is a reflection of the commitment and indicates that the company keeps abreast of the latest advances in the field.
Response Time
24/7 services are expected from commercial damage restoration services. Time is of essence to ensure the business can resume normal operations as soon as possible. Also, businesses need the area to be secured and what has been saved from damage needs to be protected and if necessary stored in a safe place. The speed with which the company responds by conducting assessment and explaining their plan of action indicate their preparedness and professionalism.
Check References
Business owners can try to check with previous clients who accessed the same services from the commercial damage restoration company they are considering engaging.
Budget and Timelines
It is always better to get an estimate and clear all queries before embarking on any project. Especially with restoration, this clarity must be there from the beginning. Similarly, for a business where time is money literally, there should be a timeline that the company provides so that the business continuity and personnel and client interests are affected as minimally as possible.
Commercial damage restoration can follow an accident or disaster or might be unavoidable with time. Whatever the circumstances it can be a stressful time for the business owner. In the aftermath of an unexpected event taking decisions and ensuring that all is done for the business to keep thriving is a huge task. Getting an expert in commercial property damage restoration is vital. Choosing a company like SERVPRO of Easton, Bethlehem and Whitehall that strives to minimize the stress and chaos that damage brings can be the best decision a business owner makes. SERVPRO provides restoration and cleaning services after fire or water damage. They can be reached 24/7 at (610) 559-9380.