Steps to Take After A Residential Fire
1/12/2022 (Permalink)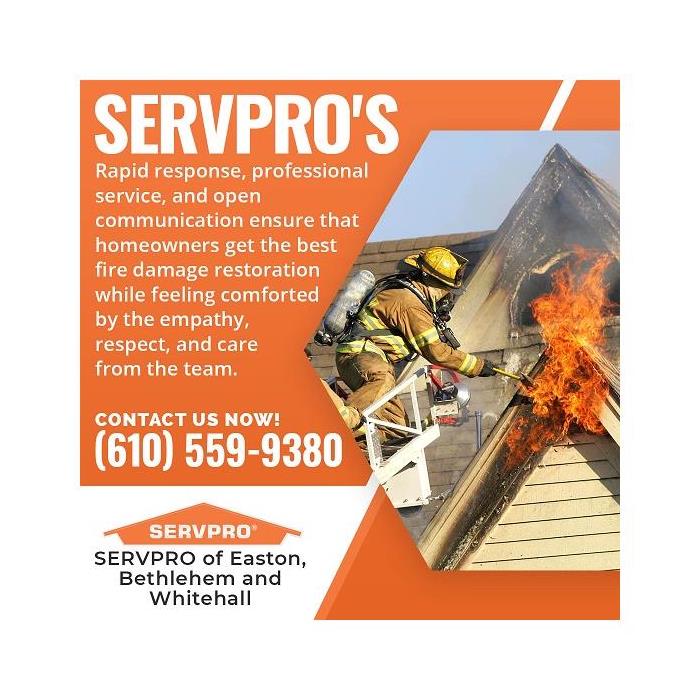 Blog Summary: SERVPRO of Easton, Bethlehem and Whitehall provide some helpful tips on what a home-owner must do immediately after a fire.
An estimated 368,500 residential building fires were reported in the United States between 2017 to 2019. In this period 77% of all fire deaths and 75% of all fire injuries happened in residential buildings. Most of these fires occur in the cooler months and the incidence peaks in January at 10%.
Fires that occur in homes are devastating in terms of injury or loss of life, property damage, and mental trauma. Most homeowners have home insurance that covers most of the fire damage restoration. Even though a property damage restoration company provides the best services possible, it would be very helpful for the homeowner to know what to do immediately after a fire. SERVPRO of Easton, Bethlehem and Whitehall lists what to do immediately after a fire.
1. First Aid or Medical Treatment If Needed
In case of a small, confined fire there are chances that the residents can escape a house fire without any injury. But in the case of large, non-confined fires there are chances of injuries. Depending on the severity homeowners should avail of first aid from first-responders and medical treatment if indicated.
2. Communicating With Family
After evacuating all the residents it should be ensured that all the family members are safe. How family members react will vary depending on their ages, their proximity to the fire, the severity of the fire, and any injuries sustained. Family members must be reassured and arrangements made for their stay if needed. Any family members who were not in the house at the time can be informed. Home-owners who have no family nearby can reach out to friends who can offer the support needed.
3. Contact The Insurance Company
Contacting the insurance company helps to start the process of event documentation and begin the insurance claim process. An insurance agent would discuss alternative living arrangements and also provide contacts for fire damage restoration. The fire department provides a fire report, a copy of which would be helpful for the insurance company as well.
4. Assessing The Damage
Insurance companies usually send an expert to evaluate the nature and extent of damage to the house. This helps to decide if home restoration or reconstruction is needed. Damage caused by the fire has to be repaired, and a fire damage cleanup is essential for damage due to soot, smoke, and heat. Water damage repair will also be required to deal with the water damage caused as firefighters put out the fire using water. Professional property damage restoration companies like SERVPRO can help with both fire damage restoration and water damage restoration.
5. Enter the House Only When Safe
Until the fire department gives a clearance to enter, homeowners should avoid entering the house or building damaged by fire. Fire can begin again, even when seemingly put out. There can be hidden damage that weakens floors, doors, and walls that can cause injury. Homeowners are advised to retrieve only important documents and valuables.
6. List Items and Retrieve Undamaged Items
Segregating damaged and undamaged items in the house helps to provide the insurance company with a list of damaged items. The undamaged possessions can be listed for cleanup or repair by the restoration company. Photographing all items is helpful to provide the insurance company with accessing the damage.
After a fire at home, the entire family is shaken and disturbed. Homeowners can be overwhelmed by emotions and it can be a stressful time. Along with handling emotions, there are decisions to be made regarding the family members and the fire damage restoration process. A fire and water damage specialist like SERVPRO of Easton, Bethlehem and Whitehall has a wealth of experience. Their rapid response, professional service, and open communication ensure that homeowners get the best fire damage restoration while feeling comforted by the empathy, respect, and care from the SERVPRO team. SERVPRO of Easton, Bethlehem and Whitehall can be reached on (610) 559-9380.