What To Do Before Storm Damage Restoration Begins
1/12/2022 (Permalink)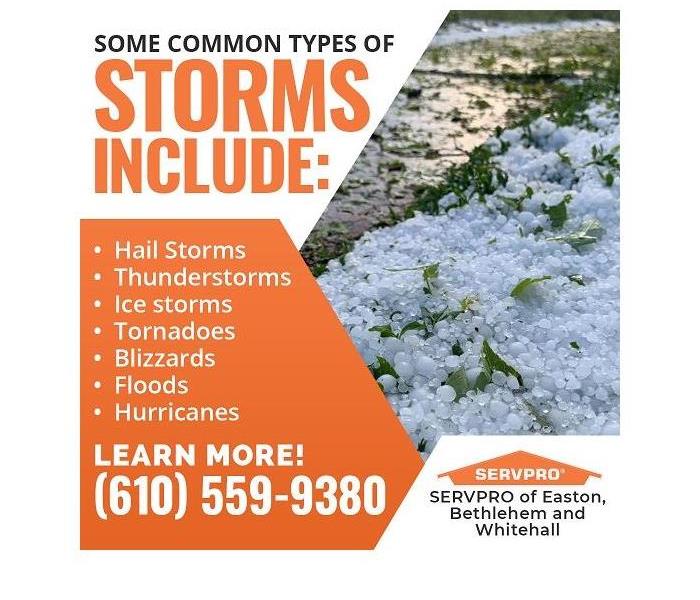 Blog Summary: SERVPRO of Easton, Bethlehem and Whitehall outlines types of storms, potential damages, and what to do before professional damage restoration begins.
Different parts of the country are prone to storms. Storms are a leading cause of water damage and can lead to other structural damages as well, depending on the type and intensity of the storm. Some common types of storms include:
Hail Storms
Thunderstorms
Ice storms
Tornadoes
Blizzards
Floods
Hurricanes
People residing in storm-prone areas are usually prepared for the types of storms that are prevalent there. But there are instances of storms occurring in other areas too, or at odd times. Irrespective of when and where they occur storms are devastating when they cause damage. Storm damage can be limited or very extensive depending on the intensity. It can include water damage, mold, structural damage to roofs, flooring, and walls, electrical damages that can cause fire damage, etc. Minimal damage may be manageable by the homeowner. When there is more damage a professional storm damage restoration service is the way to go. Here are some things to do after a storm to ensure safety until the property restoration and cleanup company arrives.
Homeowners need to make sure that it is safe to step out. Get information from reliable sources like disaster relief personnel or local radio stations. Homeowners must retrieve only important documents or valuables if leaving the home is necessary for safety. If reentering a flooded home, a homeowner must take safety precautions.
Contact Insurance Company


If the home insurance covers storm damage they should be contacted. It would be good to document all damages by taking pictures. This is helpful for the insurance company and storm damage restoration company.
Check if Water Inflow Can be Stopped


While stormwater is impossible to stop. Homeowners can try to divert water from the house by blocking or damming the water run and by ditching, if permitted. Flooding by freezing pipe bursts and such need professional help, but the water supply can be turned off to minimize water damage if possible.


Precautions to Avoid Electrical Dangers


Electrical appliances exposed to water can be disconnected if possible to do safely. They may need servicing. Frayed and damaged wires must be steered clear of. Any structural damage or damaged, exposed wires will need the services of an electrician. If the power can be switched off from a dry place it can be done. Otherwise, the electrician should do so. The utility company must be alerted if there are tree branches or other debris fallen on the power lines nearby.
The roof can be inspected and any possible temporary fix that prevents rain from coming in and minimizes water damage can be done, if safe. But eventually, this might be part of the damage restoration service needed.
Pipes can be checked for visible damages. Ice storms and blizzards can cause freezing pipes to burst. In that case, the water taps to toilets and sinks need to be turned off, and if necessary all water to the home may need to be turned off. Sewage backing up in toilets or sinks is a severe problem that needs expert help. If so, all sinks and toilets must not be used.
If there is no electrical or other danger, homeowners can try to remove standing water as far as possible with a squeegee or pump. Carpets, drapes, furniture, etc can be removed to drier places if possible, to reduce mold damage. Ultimately extensive cleanup and water damage restoration would be needed from a professional property damage company with relevant expertise.
It is always best to get professional help as storm damage can be vast, difficult to detect, and has implications on safety. It needs specialized equipment like pumps, air movers, and dehumidifiers. They also use technology to detect trapped residual water and moisture. SERVPRO of Easton, Bethlehem and Whitehall is a leader in storm and water damage restoration. With highly trained specialized technicians and scientific drying techniques, progress monitoring, and documentation they are the best choice. With resources from 1,700 franchises across the state and country, SERVPRO of Easton, Bethlehem and Whitehall can handle projects even during major storms and floods. They are a locally owned company with a national presence that can be contacted on (610) 559-9380 for any flooding or storm emergency at any time.