Causes and Prevention of Electrical Fires
2/4/2022 (Permalink)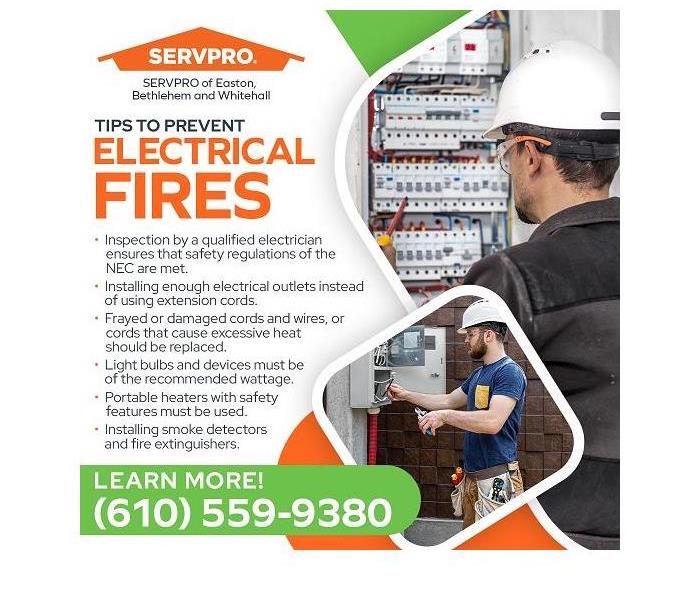 Blog Summary: SERVPRO of Easton, Bethlehem and Whitehall lists some causes of electrical fires and how to prevent them.
Fires are a cause of property damage. Electrical fires occur in both residential and commercial properties. The term electrical fire broadly refers to a fire caused by an electrical source. Malfunction or failure of electrical components within equipment or machinery can cause electrical fires. Electrical fires can originate in electric wires, circuit breakers, and cables. According to the National Fire Protection Association, around 10% of the reported home structure fires per year between 2014 and 2016 are due to electrical distribution or lighting equipment. These incidents caused an average of 18 % of civilian deaths and cost $1.4 billion in direct property damage annually.
Electrical problems are the third leading cause of home fires and the fourth leading cause of home fire fatalities. Awareness about electrical fires and their causes is important. SERVPRO of Easton, Bethlehem and Whitehall are knowledgeable professionals in fire damage restoration. They share information on how electrical fires happen and preventive steps.
Common Causes of Electrical Fires
1. Faulty electrical outlets and appliances:
Faulty outlets, worn-out electrical sockets, and outdated appliances can cause electrical fires. Frayed cords can heat combustible surfaces like curtains or rugs to start fires. Removing grounding plugs to fit a cord in a two-pronged electrical outlet can cause a fire by drawing more electricity than an appliance can handle.
Old appliances may not meet standards related to wattage, quality of materials, and safety regulations. They can cause electrical fires due to related malfunctions.
2. Light fixtures:
Using light bulbs with a higher wattage than recommended or faulty lamps and light fixtures can cause an electrical fire. Materials like cloth or paper kept in contact with light fixtures can get heated up and ignite.
3. Portable heaters:
Keeping portable heaters near curtains, rugs, and home furnishings for a long time can cause fire damage. Radiator-type heaters diffuse heat all over their surface and are less likely to cause fires than coil heaters, but must still be kept away from flammable materials.
4. Misuse of extension cords and electrical circuit overloads:
Plugging several appliances into a single extension cord can cause excess power load on a socket. An overloaded circuit poses a risk for an electrical fire. Extension cords are to be used only for temporary purposes. Kinked cords can cause electrical fires due to excess heat they produce that melts their insulation.
5. Outdated wiring:
Homes that are more than 20 years old may not have wiring of sufficient capacity to handle all modern-day appliances in an average home of today. Old wiring also tends to heat up quickly and start a fire. Flickering lights and intermittent power outages, excessively hot appliances, sparks and shock from electrical outlets and appliances, and burning smells can indicate wiring problems.
Tips to Prevent Electrical Fires
Inspection by a qualified electrician ensures that safety regulations of the NEC are met. Older homes may need more frequent inspections, say every 3 to 5 years.
Installing enough electrical outlets instead of using extension cords prevents fires due to electrical overload.
Frayed or damaged cords and wires, or cords that cause excessive heat should be replaced.
Light bulbs and devices must be of the recommended wattage to avoid overheating and fire risks. Care should be taken to avoid paper and cloth from coming into contact with lamps and light fixtures.
Portable heaters with safety features must be used and should not be placed where there is foot traffic or too close to furniture or flammable material.
Installing smoke detectors and fire extinguishers to be prepared for any emergency is a good step.
In case of any fire damage and subsequent water damage, SERVPRO of Easton, Bethlehem and Whitehall are available 24/7. They can be called on (610) 559-9380 for any fire damage restoration service needed. An estimated 51,000 home electrical fires occur each year in the United States. SERVPRO of Easton, Bethlehem and Whitehall is dedicated to preventing this as much as possible. In case of such mishaps, their specialized fire and water training and expertise are offered to restore homes and businesses to a pre-fire condition. Making it "Like it never even happened," is what SERVPRO of Easton, Bethlehem and Whitehall aims for.