SERVPRO of Easton: Top Reasons Why You Need Professional Smoke and Odor Removal
4/16/2022 (Permalink)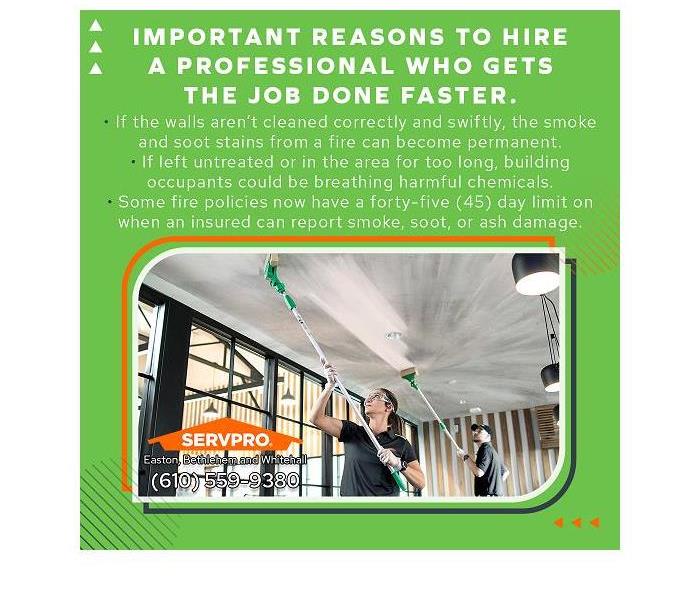 Blog Summary: SERVPRO Talks about fire recovery and the importance of professional smoke and soot odor removal to restore your property to its original state.

SERVPRO Fire Recovery Guide | Smoke and Soot Odor Removal
After a fire, residential and commercial properties find that smoke and soot odor removal quickly becomes one of the top priorities in fire restoration services. While many people may not regard smoke and soot odors the same as fire and water damage, its force is just as damaging, costly, and concerning.
If your home or business has been damaged by fire, here are the top reasons why smoke and soot odor removal is better left to professionals.
Soot Can Cause Further Damage
Soot is a corrosive agent and letting it sit for even a short time can cause further damage to your property. It can cause walls, ceilings, flooring, and other surfaces to discolor, tarnish or pit metal, and become trapped in wood, carpeting, draperies, and other softer and more porous materials, among other problems. If left too long, the discoloration can become permanent.
Soot isn't Grime
Soot is not just a grimy mess. It is made of tiny particles that contain acids, chemicals, metals, soils, and dust. The makeup of soot depends on the materials that were on fire, so cleaning soot requires the knowledge, tools, and processes necessary to remove it without causing more damage. While present, soot continues to off-put gasses and chemicals into the air.
Soot Exposure Can Be Dangerous
Soot is made of tiny toxic particles that can invade the body through the skin or by breathing the contaminated air. Touching or breathing soot can lead to potential health effects. To avoid these health effects, hire professionals to make sure that soot-affected areas get properly cleaned and sanitized.
Professionals Have the Right Equipment
During a fire, tiny soot particulates invade the structure and if not removed, can be recirculated indefinitely by movement, fans, and HVAC systems. SERVPRO of Easton has specialized tools to remove the soot and proper protective gear to handle affected areas.
Professionals Can Help With an Insurance Claim
Did you know that your structure does not have to have suffered a fire to be fire damaged? If your structure was next to or in the contamination zone of another structure fire, forest fire, or wildfire, and suffers damage from smoke and soot, it may be covered by insurance. Professional soot and smoke removal companies in Easton can help ensure that the damage is properly cataloged which helps insurance companies process claims.
Soot and Smoke Odor Removal Companies Save Time and Money
Removing smoke and soot odors from the home requires a lot of specialized equipment and techniques to restore indoor air quality following a fire. A mask, mop, and bucket simply are not enough and not effective. Using the wrong products and techniques can cause additional damage and delays. Restoration companies specialize in removing soot and smoke odors quickly so you can return to normal operations as quickly as possible.
Professionals Get the Job Done Quickly
Aside from the hassle of dealing with the smell, there are some important reasons to hire a professional who gets the job done faster.
If the walls aren't cleaned correctly and swiftly, the smoke and soot stains from a fire can become permanent.
If left untreated or in the area for too long, building occupants could be breathing harmful chemicals.
Some fire policies now have a forty-five (45) day limit on when an insured can report smoke, soot, or ash damage.
Looking For Professional Smoke and Soot Odor Removal in Easton?
Never attempt smoke and soot odor removal alone. Local water and fire damage restoration experts SERVPRO of Easton, Bethlehem, and Whitehall provide the swift and reliable services you need. For residential or commercial services in Nazareth, PA, and surrounding areas, call (610) 559-9380 or email SERVPRO5770@SERVPROofeaston.com today.