Safety Tips To Prevent Fires During Grilling
6/8/2022 (Permalink)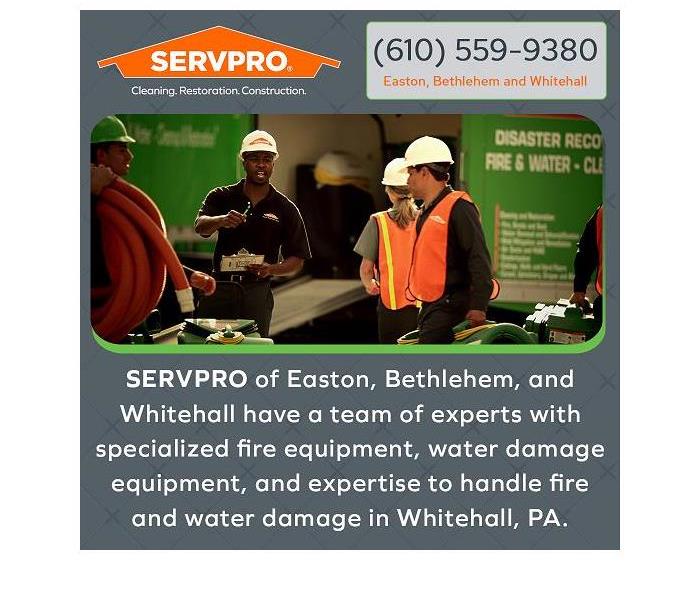 Blog Summary: Tips to maintain safety when grilling is shared by SERVPRO of Easton, Bethlehem, and Whitehall in this article.
Across the US, warm weather is the time for grilling hamburgers and hotdogs. The sizzling grill and aromas from backyard barbecues are nostalgic for most. Enjoying grilled food together is a treasured time families and friends use to spend quality time together. There is no doubt that grilled food is a national favorite for people of all ages.
But behind the great food and warm memories associated with grilling lurks the danger of a fire. The NFPA data shows that an average of 19,700 people had to visit the ER in a year due to injuries involving grills. Gas grills caused an average of 8,900 home fires a year and charcoal or other solid-fueled grills led to 1,300 home fires annually. In this article, SERVPRO of Easton, Bethlehem, and Whitehall gives some grilling safety tips. This Fire and Water - Cleanup and Restoration service provider specializes in the cleanup and restoration of residential and commercial property after water or fire damage.
Some grill safety tips that should be followed to prevent fires
Common Safety Tips
Grills must be used only outdoors where there is plenty of ventilation.
Grills must always be placed on a flat, level surface. If placed on sloped or uneven surfaces grills can tip over and cause fires.
Everyone, especially children and pets must be kept at least 3 feet away from grills.
Grills must not be kept under a deck, awnings, eaves, umbrellas, or tree branches. Especially when there is a party there can be decorations like balloons, streamers, banners, floral decorations, and tablecloths that can catch fire. The grill must be always at a distance from all these things. Once a fire is started the fire damage can be extensive.
The grill must be cleaned as grease tends to build up and catch fire when the grill is used.
All grills must be well-maintained and parts must be replaced as needed so that they function safely.
A hot grill must never be left unattended. All food, utensils, and plates must be kept ready nearby to avoid leaving the grill. A designated person must man the grill at all times.
Using long-handled utensils will prevent burns while grilling.
While grilling people should avoid loose clothing that can dangle over the grill. It is also better to avoid wearing watches and jewelry when grilling as they can conduct heat and cause burns.
A spray bottle of water can be kept handy to put out small fires that flare up from fat dripping from fat.
A fire extinguisher can be kept to use in case of a fire emergency.
Safety Tips For Charcoal Grills
Lighter fluid must never be added directly to hot coals as the flame can flare up along the stream of liquid and burn the person handling the grill. The charcoal fire must not be started with kerosene or gasoline.
The ashes must be left to cool for at least 48 hours before disposal. Closing the lid will help suffocate embers. This is because they can smolder and then ignite a fire if not cooled. The cooled coal must be kept in a non-combustible can with a lid.
Safety Tips For Gas Grills
When using the gas grill for the first time each season the grill's hose must be checked for leaks. A light solution of soap in water can be applied to the hose and will release bubbles if there is a leak. If the bubbles persist after the grill is turned off the fire department must be called. If not, the grill still needs professional servicing.
Keeping the lid open when starting a gas grill prevents gas accumulation which can explode when the grill is lit.
If there is a smell of gas when cooking, an adequate distance must be kept from the grill. The fire department may be called.
Full tanks of propane must never be left in a hot car or trunk.
Propane tanks must always be kept in an upright position outdoors or at least 10 feet from doors, windows, and dryer vents, and 20 feet from air intake vents.

SERVPRO of Easton, Bethlehem, and Whitehall is committed to the safety of the communities it serves. This company understands the stress that water or fire damage causes to homes and businesses. SERVPRO of Easton, Bethlehem, and Whitehall are experts with specialized fire equipment, water damage equipment, and expertise to handle fire and water damage in Whitehall, PA. Their rapid response, professionalism, and open communication are all directed toward restoring homes and businesses to normal. SERVPRO of Easton, Bethlehem, and Whitehall can be contacted for trained fire and smoke restoration technicians in the event of fire damage in Whitehall. The contact number for SERVPRO of Easton, Bethlehem, and Whitehall is (610) 559-9380 and they are available 24/7 for emergencies and also have Disaster Recovery Teams to respond to large-scale disasters.