How Professional Water Damage Restoration Helps In Disaster Recovery
6/8/2022 (Permalink)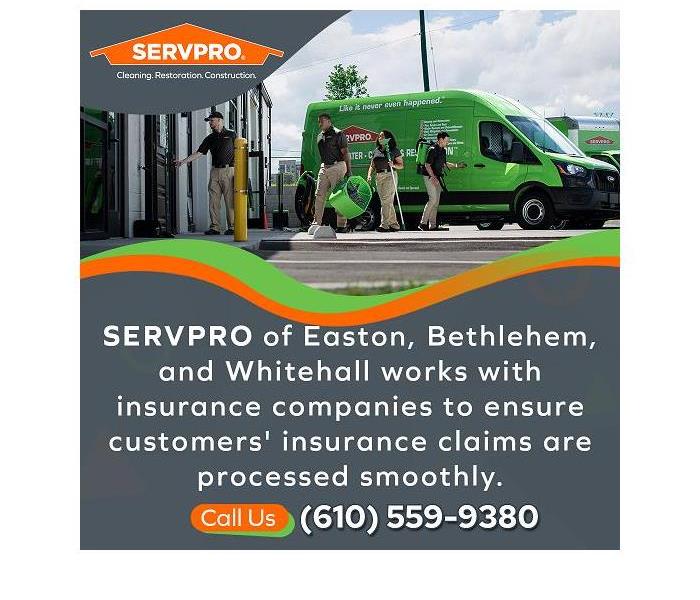 Blog Summary: The article explains how SERVPRO of Easton, Bethlehem, and Whitehall has strategic Disaster Recovery Teams and is always prepared to handle disasters of any size.
Life is filled with unexpected things. Disasters are unexpected events that cause destruction and emotional turmoil. Disasters can be man-made like accidental fires or attacks on people. They can also be natural events like all types of severe weather. They have the potential to affect human health and safety, property, and homeland security. Since natural disasters can happen without warning they can lead to periods of insecurity, disruption, and economic disruption.
Individual homes and businesses can sustain damage after storms, floods, tornadoes, earthquakes, etc. Fire damage and water damage can occur after some types of natural disasters. The disaster recovery process must take place immediately to reduce casualties, limit the extent of loss of property, and restore human life and business functions to normalcy. This is why disaster recovery is important. Whether it is fire damage or water damage resulting from a disaster, the damage restoration needs to be done as quickly and as efficiently as possible. SERVPRO of Easton, Bethlehem, and Whitehall provides cleanup and restoration of residential and commercial property after a fire, water, or flood damage. They also mitigate mold and offer reconstruction services. SERVPRO of Easton, Bethlehem, and Whitehall operates 24/7 and is strategically positioned to cater to any size emergency through their 1960 franchise locations across US and Canada.
The Top 10 Emergencies in Pennsylvania according to the Pennsylvania Emergency Management Agency (PEMA)
Floods
Fires
Winter storms
Tropical Storms, thunderstorms, tornadoes
Earthquakes and landslides
Hazardous material incidents
Pandemics
Nuclear threats
Dam and water threats
Mass violence
Disaster recovery is carried out after any type of disaster. It is a collective effort of federal state and local governments who also cooperate with non-governmental and private industries.
Individual homeowners and business owners do rely on professional property damage restoration companies after disasters. SERVPRO of Easton, Bethlehem, and Whitehall offers fire and water damage cleanup services. This is a local company that specializes in storm and flood damage restoration. Being locally owned and operated, SERVPRO of Easton, Bethlehem, and Whitehall are prepared to handle storm and flood damage and are quick to respond and act in emergencies. With highly trained technicians and specialized equipment, they are equipped to handle any fire or water damage restoration, large or small, residential or commercial. With the ability to access resources from 1960 franchises spread across the state and country, SERVPRO is not overwhelmed by major storms and flooding disasters, unlike many restoration companies.
SERVPRO of Easton, Bethlehem, and Whitehall also has a Disaster Recovery Team that can handle any disasters like tornadoes, hurricanes, blizzards, or floods.
When disasters strike the requirement for emergency fire or water damage restoration is widespread and urgent. SERVPRO of Easton, Bethlehem, and Whitehall has access to the SERVPRO Commercial Large Loss Division. This has property damage restoration experts who have the training and expertise to handle disasters of any size. They have the advantage of being placed at locations throughout the US. The services are supervised by a manager to ensure that fire, water, or flood damage mitigation is done without delay. As SERVPRO has access to teams located in different regions, their ability to dispatch trained restoration professionals to any location helps them to cut costs and be prompt in service delivery.
SERVPRO of Easton, Bethlehem, and Whitehall works with insurance companies to ensure customers' insurance claims are processed smoothly. With technicians undergoing initial and ongoing training and IICRC training and certifications, customers can be assured of the best restoration services after fire damage, water damage, or flood damage. With highly trained water damage restoration technicians capable of handling storm and flood damage, SERVPRO of Easton, Bethlehem, and Whitehall can be relied on for quick response to limit further water damage and reduce restoration costs. They can be contacted by calling (610) 559-9380 or emailing SERVPRO5770@SERVPROofeaston.com.