How Homes Are Affected By Flood Damage
8/5/2022 (Permalink)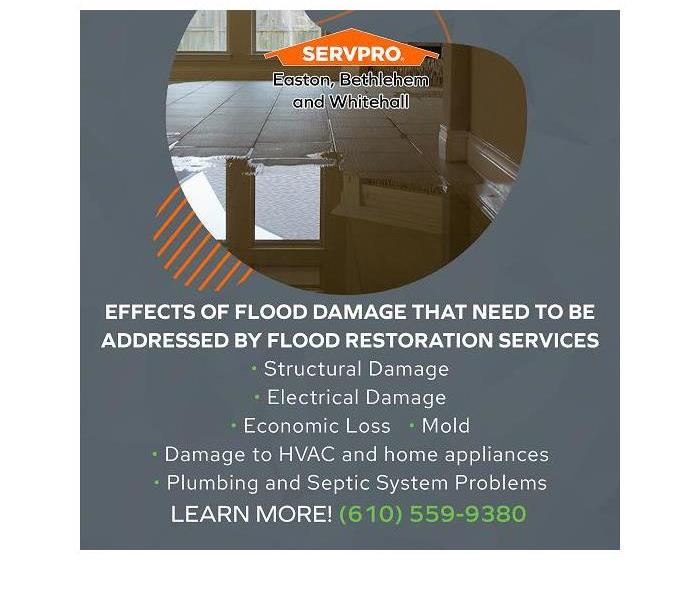 Blog Summary: An article by SERVPRO of Easton, Bethlehem, and Whitehall on the effects of flood damage on homes.
Floods may seem less catastrophic than other disasters like earthquakes or fires. But though not always immediately water can rise with serious and devastating consequences. Apart from water damage, flooding can result in electrical fires and electrocution accidents.
Flood damage can be extensive and restoration and cleanup are time-consuming. Flood damage restoration can be expensive. It can also be difficult to access when floods affect vital infrastructure and many large areas are affected. SERVPRO of Easton, Bethlehem, and Whitehall is quick to respond and has resources like trained personnel and specialized equipment to handle flood damage restoration needs. This company operates in local communities including in Quakertown, PA. In this article SERVPRO of Easton, Bethlehem, and Whitehalloutlines how homes can be affected by flood damage.
Floods are caused by water from a natural disaster like a hurricane or heavy rain. Homeowners must be able to differentiate flood damage from water damage. They must also be aware that they need a separate insurance policy to cover flood damage, especially if the area is prone to floods. Flood damage is devastating.
The following are the effects of flood damage that need to be addressed by flood restoration services.
Structural Damage
The sheer force of water moving during a flood can damage the foundation, walls, and siding of a home. The longer water is left standing, the more the structural integrity of materials like wood and drywall is compromised. The foundation can develop cracks due to hydrostatic pressure from the water below the ground. The longer the level of groundwater is high, the more the potential for flood damage.
Electrical Damage
Floodwater is an excellent conductor of electricity. To avoid danger the utility company is to switch off the power. Using electrically insulated gear must be used when working in a flooded area. Floodwater is also capable of corroding electrical equipment. Even after they dry, electrical switches, receptacles, and breaker panels exposed to floodwater can cause arcing. Some electrical equipment may need to be replaced after flood damage.
Mold
Mold growth can easily occur after floods, and can appear 24 to 48 hours after floodwater recedes and the surfaces are exposed to air. Spores released by mold can lead to allergic reactions. It is best to get professionals for mold removal.
Damage to HVAC and home appliances
The components of electrical appliances and HVAC systems are easily corroded after exposure to floodwater. They can stop working or overheat or cause arcing when used. Appliances may need to be replaced after flood damage.
Plumbing and Septic System Problems
Leaking pipes and damaged plumbing systems can cause floods. Once immersed in floodwater, fixtures may be repaired after disassembling and disinfecting them. If plumbing systems are blocked by contaminants carried by flood water they need cleaning. Floods can cause high pressure in water and sewage pipes causing them to burst. Septic systems can sustain flood damage.
Economic Loss
Flood damage can be financially crippling. Flood restoration services can be expensive. In some cases, homes may be vacated and the occupants may need to find accommodation which adds to the costs. A company like SERVPRO of Easton, Bethlehem, and Whitehall helps clients manage the insurance paperwork and process for an easier claims process.
Emotional Damage
Anxiety, depression, and anger may follow after the trauma of a home being flooded. The emotions people feel can affect their relationships and functions. It may take time for people affected by floods to cope with their consequences.
Flood damage has many undesirable consequences. Homeowners must take steps to prevent flood damage to their homes. But once there has been a flood, a professional flood damage restoration service is the best bet to get the place to pre-damage condition. SERVPRO of Easton, Bethlehem, and Whitehall is an expert in fire and water clean-up and restoration. They have 24/7 emergency services, are strategically positioned to serve any size emergency, and trained personnel. In Quakertown, PA SERVPRO of Easton, Bethlehem, and Whitehall can be called on (610) 559-9380 for flood restoration work.