Smoke and Fire Damage from a Kitchen Fire Create Horrible Odors
6/22/2018 (Permalink)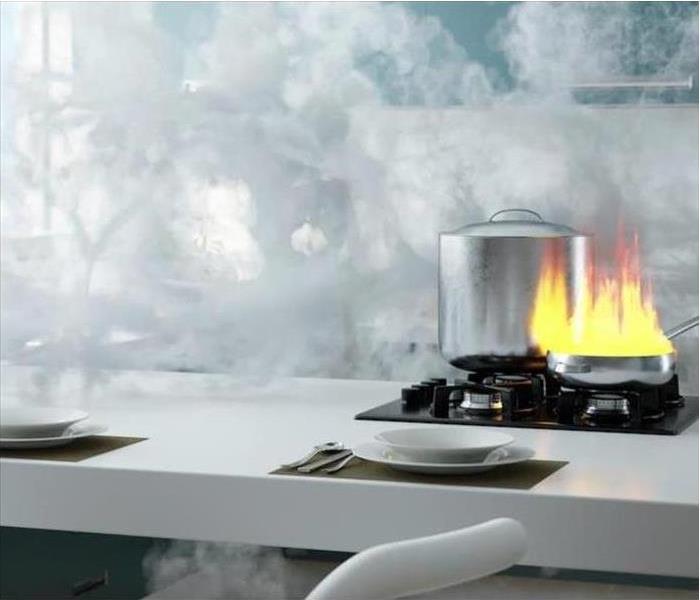 Kitchen fires can happen very quickly and spread. After the firefighters leave, contact SERVPRO for remediation services.
Team SERVPRO Arrives on the Scene Quickly After a Fire in Your Kitchen
Many residents in the Lehigh Valley add meat to the family meal to ensure adequate intake of protein by everyone present. This same protein can cause severe problems if the person cooking it forgets it and allows it to burn. Catching fire and spewing flames out of your cookware does not need to happen for smoke production to overwhelm your kitchen, but when it does happen, it only increases the amount of overall damage sustained.

Rainy days during the Spring months can keep grilling endeavors indoors where the risk of fire becomes more likely due to interruptions, as well. Outdoor activities can easily cause anyone to lose track of time and forget about the steaks left on the kitchen stove. It takes only a few minutes of extra heat from the stove to go from 'perfectly done' to zero visibility conditions developing inside your kitchen area.

Once we arrive, we set up powerful air movers. These machines move a large volume of air in a very short period. Our air scrubbers go one step further in reducing the amount of smokiness in your home. These machines filter out the particles that may have already passed into other parts of your residence and keep them from becoming constant reminders of a burnt meal.

All meat contains significant amounts of protein that begin producing an extremely acrid, bitter odor after reaching a specific temperature. The oil that often accompanies such food while cooking only adds to the problem. SERVPRO technicians can also perform thermal fogging in cases where the odor persists. The heated fog that carries neutralizing agents permeate the same areas the smoke entered, resulting in significant improvements to the indoor air quality.

Manual cleaning of all surfaces inside your kitchen protects them from soot's abrasive nature. We use special cleansers that cut through the greasiness and unique tools that then lift the mess off the area. After we clean everything and eliminate the smoke odor, without any trace of fire damage, everything in your home goes back to looking "Like it never even happened."

SERVPRO of Easton, Bethlehem & Whitehall can help your family after a bout of smoke and fire damage from a kitchen flare up. Contact us at 800-455-9453 so we can assist you in getting your home back to normal again. We perform our services in the Greater Lehigh Valley.