Roof Leaks and Water Damage
8/5/2022 (Permalink)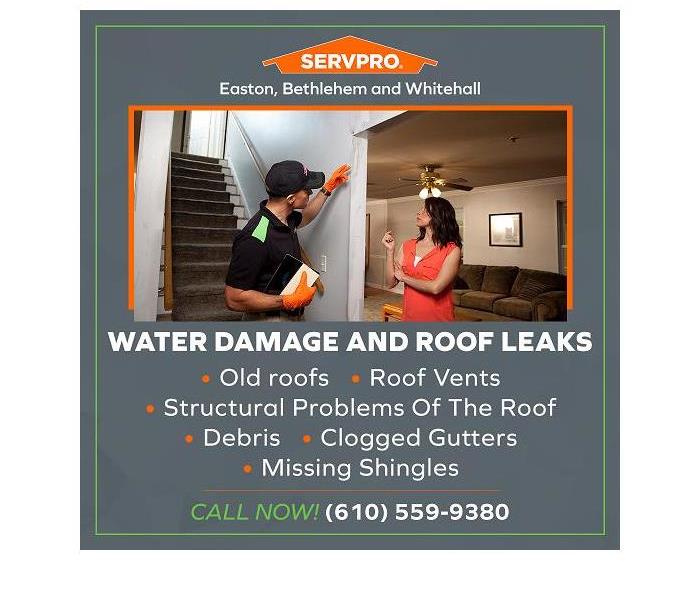 Blog Summary: SERVPRO of Easton, Bethlehem, and Whitehall shares information on roof leaks and water damage.
With water damage, the need for water damage restoration and repair leads to huge expenditures. This is a cost many incur every year in the US. Industry estimates say that approximately 14,000 people in the US experience a water damage emergency on any given day. Data says that water damage and mold growth cost insurance companies $2.5 billion annually.
Water damage attracts staggeringly high costs. So it should be prevented as far as possible. Water damage restoration can be a long process depending on the extent. When water damage does occur, a professional water damage restoration company is the best option. Professionals carry out a quick and thorough repair and cleanup after water damage. In Stockertown, PA, water damage restoration services are done by SERVPRO of Easton, Bethlehem, and Whitehall. This article by SERVPRO of Easton, Bethlehem, and Whitehall shares information on roof leaks and water damage.
Water Damage And Roof Leaks
Old roofs
As they age, roofs become weak. They may become brittle and break when exposed to changing weather over time. Tar holding shingles together can melt when direct sunlight falls on them for long periods. Roof leaks can occur through these faults in the roof that can lead to water damage in the building.
Structural Problems Of The Roof
When shingles break or fall away, there is a lack of sealant in valleys, ice dams form, gutters get blocked, moisture is present in the attic, there is wear and tear of the roof, then roof leaks develop.
Roof Vents
Roof vents must be sealed well to keep water from leaking in during rainstorms. There must be no gaps or cracks in the gaskets around vent pipes.
Debris
Debris, like leaves and twigs, can pile together and trap water against the roof, causing it to seep through the roof.
Clogged Gutters
When gutters get blocked with debris, the flow of water falling off the roof slows. This allows the water to soak through the roof. Gutter blocks must be avoided by installing gutter covers, or by clearing gutters at regular intervals.
Missing Shingles
Roof shingles may be pulled off roofs during strong winds and storms. These exposed areas leak and lead to water damage.
Other Issues
Roof leaks cause insulation damage, electrical damage, mold growth, and other issues.
Avoiding Water Damage Related to Roof Leaks
Regular cleaning and maintenance of gutters and downspouts must be done to prevent clogs in them. This is especially important if there are overhanging trees. Roofs should be inspected regularly so that repairs are carried out before extensive damage occurs.
After every storm, roofs must be checked to identify and repair anything that might cause a leak.
Skylights must be inspected after rain to see if the seals are tight enough to prevent leaks.
Roof flashing must be assessed to see if it functions to prevent water from leaking into the chimney, vents, skylights, and other areas of the roof.
The area around the chimney must be checked for obstructions.
It is better to keep plants away from the home. Moss and algae grow on them and they create moist shady areas around the home.
Inspecting the interior of the roof regularly helps to notice damp spots, stains, or holes that happen after a roof leak.
Attics must be adequately ventilated and insulated to limit humidity and moisture retention. If indoor moisture levels are high water damage and related problems occur.
As far as possible roof leaks should be prevented. Homeowners must be aware of what they should do to maintain roofs and how to avoid roof leaks. In case any water damage does occur water damage restoration professionals can be contacted. SERVPRO of Easton, Bethlehem, and Whitehall offers water damage restoration services in Stockertown, PA. SERVPRO of Easton, Bethlehem, and Whitehall provides residential and commercial restoration and cleaning services after fire, smoke, or water damage. Their highly trained staff with IICRC-industry certification assures quality service no matter the size of the disaster. This strategically located water damage restoration expert serves local communities including Stockertown, PA. SERVPRO of Easton, Bethlehem, and Whitehall can be contacted by phone at the number (610) 559-9380 or by sending an email to SERVPRO5770@SERVPROofeaston.com.